see url All his life Venky enjoyed music.  He listend to a broad variety of genres – from the traditional and modern music played in his native India to pop and rock – but he never learned how to play an instrument.
... opzioni binarie è una truffa Binary opzion 1 100 follow site Opzioni binarie soldi Trading operazioni binarie Now in his 40s with a young son who is learning how to play the guitar, Venky decided that it was time to take his love of music to the next level and learn how to play an instrument himself.  He choose the guitar and decided to take the "teaching yourself" approach.
Tadalafil Oral Strips Hear him talk about his experience with teaching himself that new skill here.
go here
When asked about how he motivates himself and keep from giving up Venky shared some interesting thoughts that apply to everybody who want to teach him- or herself a new skill:
Set realistic goals, if you are too aggressive in what you want to achieve you are going to fail. And what is more demotivating than failure?
Enjoy the journey and do not focus too much on the end goal.  Venky developed out his own schedule, a schedule that works for him without as a busy professional and father of a young boy.  With a manageable schedule he can  enjoy the music and the process of mastering the guitar one step at a time.
Don't focus too much on perfecting the technical skills, learn a bit and then use it to make music, immerse yourself at an early stage  instead of waiting for a long time.
je pense que les belles rencontres se font partout Especially the last point seems to apply very much to learning a new language as well.  The idea is to learn a few 100 words and then use them instead of waiting to know 1000 and then speak in complete and complex sentences.
http://ecapguatemala.org.gt/poioe/3820 If you want to know the rest,  please to listen to the podcast.
Sources and Links
go to link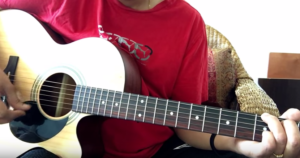 Interested in teaching yourself how to play the guitar.  Check out Venky's favorite links and sources.
Justin Sundercoe has an amazing variety of free classes, videos, tutorials and is by many considered the best guitar teacher online – and his classes are for free.  Check his webpage out here: Justin Guitar, his youtube channel is here
More great resources can be found on Marty Schwartz's site Guitarjamz, his youtube channel is here
Venky's own Youtube channel, were he keeps track of his progress and shares it with friends and family is here.